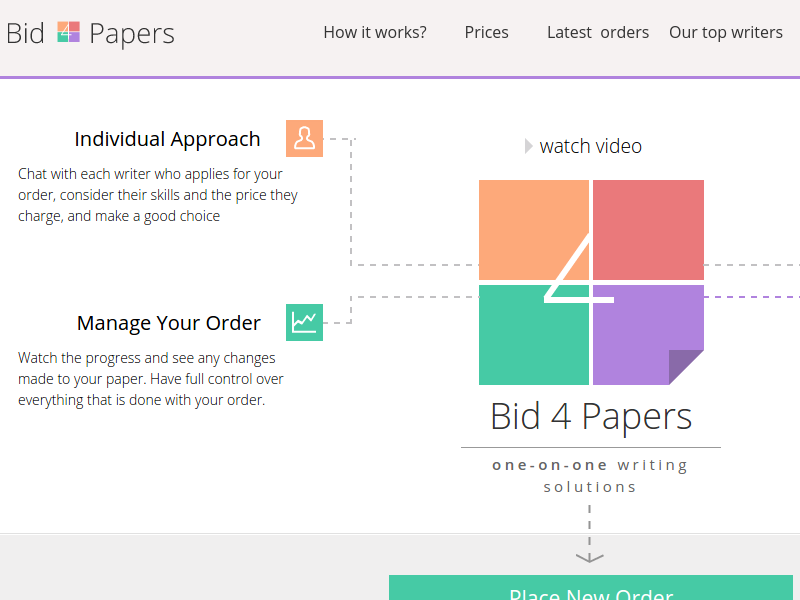 The authenticity of a site is made with the availability of checkable facts in the About Us page. There are no such facts in bid4papers.com as it usual for One Freelance Limited. Anyone willing desperate to use this service will be left guessing on some aspects that would make their end-result amazing. In addition, Bid4Papers has absolutely similar mechanic and writers base as an writemyessayonline.com (review) and one-hour-essay.essayshark.com (review). So we have to guessing, did they have anything differences except domain names.
Site Usability
For bid4papers.com review, design and good organization could be the catch for many students who would want to get help online. It's well designed and organized. Definitely, the cool color of green and minimal use of warm shades gives the bid4papers a balanced and calm look. Navigating through the site can be rated higher than many other sites available online. Though still not the best, users cannot put off bid4papers.com so easily.
Services, Prices, Features
At bid4papers.com, there are quite a good number of services that are available for choosing. However with a floating price offer, there is a high chance of getting deceived. While users may think that this is a chance for having a bargaining option, it may be hard to tell what one paid for. In total bid4papers.com price become even higher than One Freelance Limited price policy. On the contrary, the blog feature on this website is admirable because of some good content that can really be useful. Hope it's not the way to cover bid4papers fraud at customer services.
Paper Quality and Support
Average is the term that defines the paper quality received from this site. With a not well-defined price and somewhat supporting customer care, the end product of this service is debatable in terms of superb quality. There are no distinguishing elements that would make bid4papers.com a top-notch service on grounds of quality and time management. Maybe with a few revisions, the quality could be enhanced as was the case. As it One Freelance Limited site, you can evaluate paper quality with this sample.
Reveal the SAMPLE
Conclusion
Bid4papers.com site could be good, but it depends on the choice of writer. Depends, on similarity with writemyessayonlie.com there are reasonable question is bid4papers legit at all? But if ignore this question, we can say "yes". There is a chance that students may land themselves on bad writers hence leading to unsatisfactory work. It cannot be said that this site is among the best, rather, is a fair place to get average quality work.